Harry S. Stamper Quotes
Latest Harry S. Stamper quotes from Armageddon
Harry S. Stamper

Harry S. Stamper is played by Bruce Willis in Armageddon.
Quotes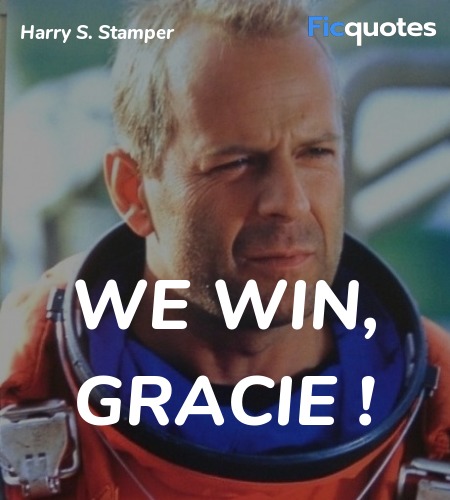 We win, Gracie !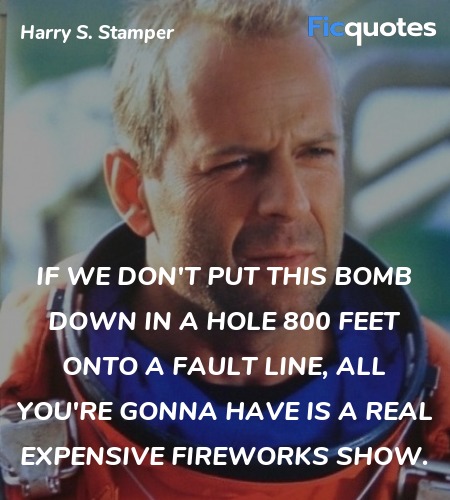 If we don't put this bomb down in a hole 800 feet onto a fault line, all you're gonna have is a real expensive fireworks show.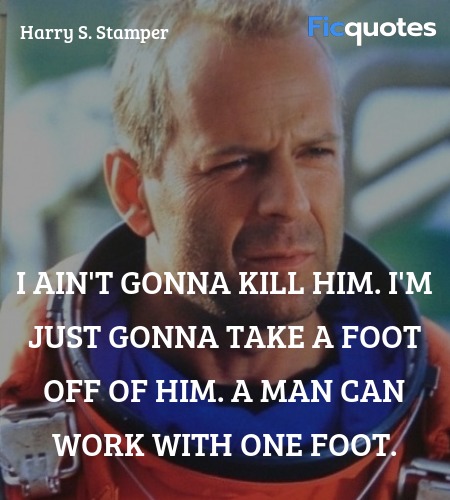 I ain't gonna kill him. I'm just gonna take a foot off of him. A man can work with one foot.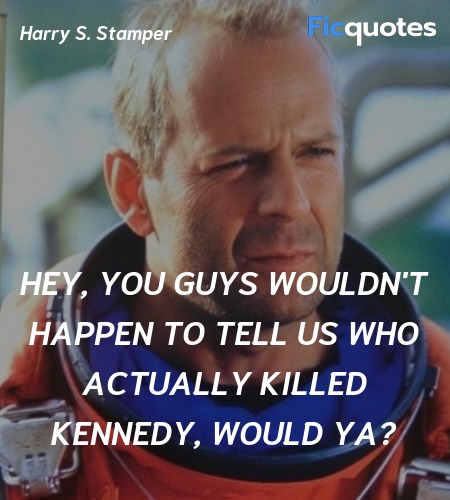 Hey, you guys wouldn't happen to tell us who actually killed Kennedy, would ya?
Grace Stamper : Listen, Harry, A.J. is my choice - my choice and not yours.
Harry Stamper : He's the only one in your age bracket, Grace. It's not a choice, it's a lack of options.
Harry Stamper : For god's sakes, think about what you're doin'. Why are you listening to someone that's a 100,000 miles away? We're here, nobody down there can help us. So if we don't get this job done, everybody's gone.
Chick : One minute.
Harry Stamper : I have been drilling holes in the earth for 30 years. And I have never, NEVER missed a depth that I have aimed for. And by God, I am not gonna miss this one, I will make 800 feet.
Chick : 42 seconds.
Harry Stamper : But I can't do it alone, Colonel. I need your help.
Colonel William Sharp : Do you swear on your daughter's life, on my family's, that you can hit that mark?
Harry Stamper : I will make 800 feet. I swear to God I will.
Colonel William Sharp : Then let's turn this bomb off.
Houston, you have a problem. You see, I promised my little girl that I'd be comin' home. Now I don't know what you people are doing down there, but we've got a hole to dig up here!
I'm gonna give you three seconds to shut this bomb down, and then I'm gonna make you shoot me.
Harry Stamper : Come on, God, just a little help. It's all I'm asking.
Max : I think we're close enough, He might have heard ya.
Quincy! Somebody tell me what this is. Plastic ice cream scoop? What'd that cost? About $400.
We hope you enjoyed reading our collection of Harry S. Stamper quotes. You can also browse other Armageddon quotes . If you think we missed any quote from Harry S. Stamper or Armageddon, please send it to us.