Black Panther Quotes
Latest Black Panther quotes from Captain America: Civil War
Black Panther

After his father King T'Chakka is killed in a bomb blast T'Challa joins team Iron Man to find and kill Bucky Barnes as Black Panther
Black Panther is played by Chadwick Boseman in Captain America: Civil War.
Quotes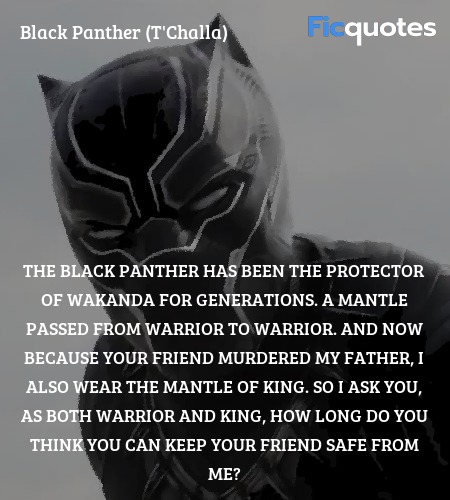 The Black Panther has been the protector of Wakanda for generations. A mantle passed from warrior to warrior. And now because your friend murdered my father, I also wear the mantle of king. So I ask you, as both warrior and king, how long do you think you can keep your friend safe from me?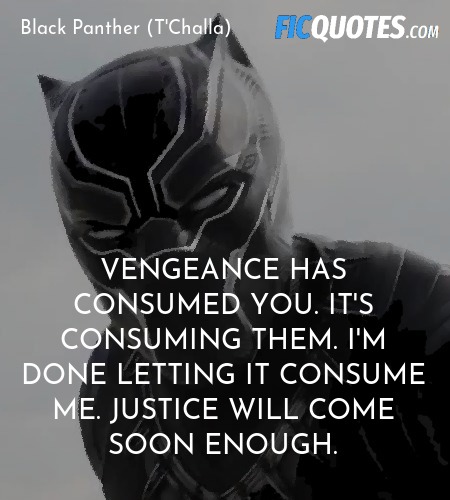 Vengeance has consumed you. It's consuming them. I'm done letting it consume me. Justice will come soon enough.
Winter Soldier: I didn't kill your father.
Black Panther: Then why did you run?
T'Challa: In my culture, death is not the end. It's more of a stepping off point. You reach out with both hands and Bast and Sekhmet, they lead you into the green veld where... you can run forever.
Natasha Romanoff: That sounds very peaceful.
T'Challa: My father thought so. I am not my father.
Natasha Romanoff: Task Force will decide who brings in Barnes.
T'Challa: Don't bother, Miss Romanoff. I will kill him myself.
Zemo: My father lived outside the city, and I thought we would be safe there. My son was excited. He could see the Iron Man from the car window. I told my wife, "Don't worry. They're fighting in the city. We're miles from harm." And the dust cleared, and the screaming stopped. It took me two days until I found their bodies. My father still holding my wife and son in his arms... And the Avengers? They went home. I knew I couldn't kill them. More powerful men than me have tried. But if I could get them to kill each other... I'm sorry about your father. He seemed a good man, with a dutiful son.
T'Challa: Vengeance has consumed you. It's consuming them. I am done letting it consume me. Justice will come soon enough.
Zemo: Tell that to the dead.
[tries to kill himself, T'Challa stops him]
T'Challa: The living are not done with you yet.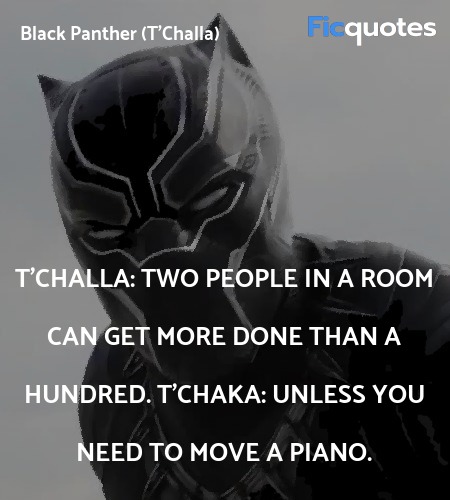 T'Challa: Two people in a room can get more done than a hundred.
T'Chaka: Unless you need to move a piano.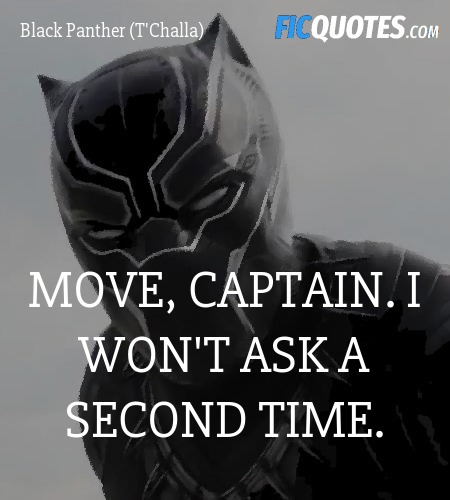 Move, Captain. I won't ask a second time.
Hawkeye: I don't think we've been introduced. I'm Clint.
Black Panther: I don't care.
We hope you enjoyed reading our collection of Black Panther quotes. You can also browse other Captain America: Civil War quotes . If you think we missed any quote from Black Panther or Captain America: Civil War, please send it to us.