Ant-Man (Scott Lang) Quotes
Latest Ant-Man (Scott Lang) quotes from Captain America: Civil War
Ant-Man (Scott Lang)

Scott is called by Captain America to fight with his side. He also warns him that he may become a wanted man. Later in the fight Ant-Man turns into Giant-Man.
Ant-Man (Scott Lang) is played by Paul Rudd in Captain America: Civil War.
Quotes
Ant-Man: Oh, you're going to have to take this to the shop.
Iron Man: Who's speaking?
Ant-Man: It's your conscience. We don't talk a lot these days.
Scott Lang: Cap... Captain America...
[shakes Steve's hand]
Steve Rogers: Mr. Lang.
Scott Lang: It's an honor. I'm shaking your hand too long. Wow, this is awesome!
Scott Lang: Captain America! I know you, too. You're great!
Scott Lang: Jeez... Uh, look, I wanna say, I know you know a lot of super-people so... thanks for thinking of me.
Does anybody have any orange slices?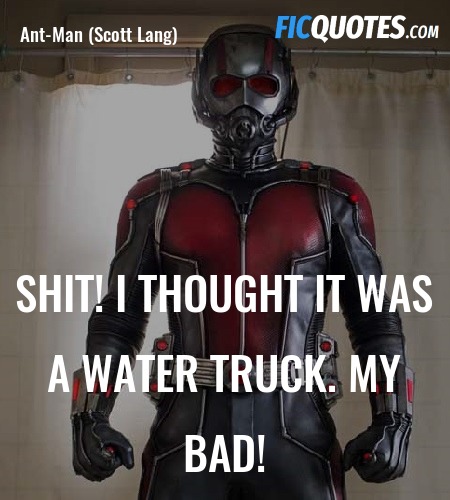 Shit! I thought it was a water truck. My bad!
I got something kinda big, but I can't hold it very long. On my signal, run like hell, and if I tear myself in half, don't come back for me.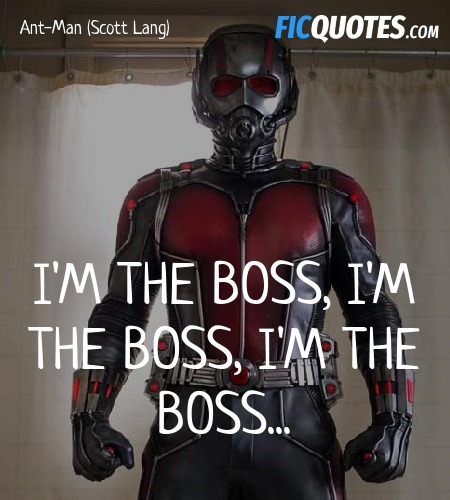 I'm the boss, I'm the boss, I'm the boss...
Ant-Man: Look, I really don't want to hurt you.
Black Widow: I wouldn't stress about it.
We hope you enjoyed reading our collection of Ant-Man (Scott Lang) quotes. You can also browse other Captain America: Civil War quotes . If you think we missed any quote from Ant-Man (Scott Lang) or Captain America: Civil War, please send it to us.