Diana Prince Quotes
Latest Diana Prince quotes from Justice League
Diana Prince

An amazonian warrior for centuries, known as Wonder Woman. Diana is helping bruce recruit some meta humans, so that they can create a team to fight against a possible threat. Later in the movie she fights along with other Justice League members as Wonder Woman,
Diana Prince is played by Gal Gadot in Justice League.
Quotes
Diana Prince: You should move on from mourning for your parents.
Bruce Wayne: You're one to talk, you ran away for hundred years because your boyfriend died!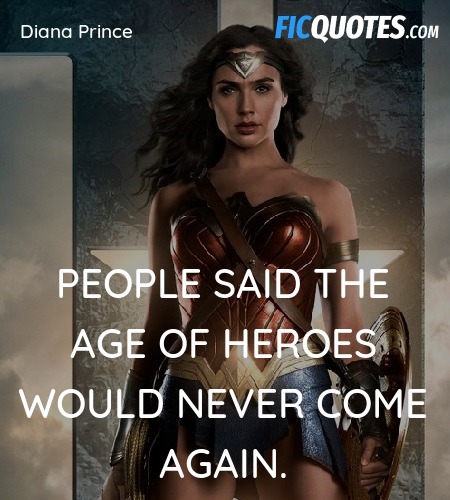 People said the Age of Heroes would never come again.
Someone: What did you do this weekend, Diana?
Diana Prince: Me? Nothing very interesting.
Diana Prince: People said the Age of Heroes would never come again.
Bruce Wayne: It has to. We don't have any more time!
Diana Prince: He said he'll fight with us?
Bruce Wayne: More or less.
Diana Prince: More more or more less?
Bruce Wayne: Probably more less.
Diana Prince: He said no?
Bruce Wayne: He said no. [about Aquaman]
Bruce Wayne: We have to be ready. You, me, the others. There's an attack coming from far away.
Diana Prince: Not coming, Bruce. It's already here. The others... where are they?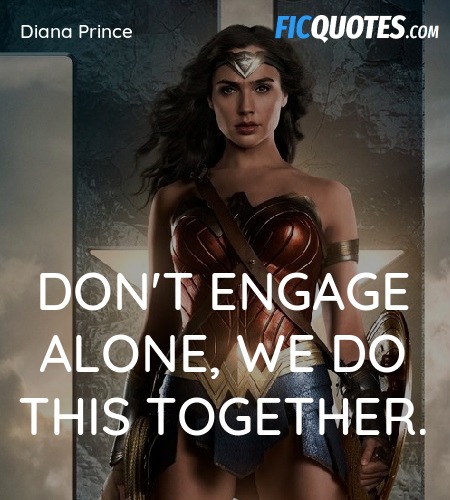 Don't engage alone, we do this together.
We hope you enjoyed reading our collection of Diana Prince quotes. You can also browse other Justice League quotes . If you think we missed any quote from Diana Prince or Justice League, please send it to us.