Andhadhun Quotes
Best Andhadhun Movie Quotes
Andhadhun

Directed by: Sriram Raghavan
Written by: Arijit Biswas, Yogesh Chandekar
Starring: Ayushmann Khurrana, Tabu, Radhika Apte
Released on: October 5, 2018

Andhadhun Quotes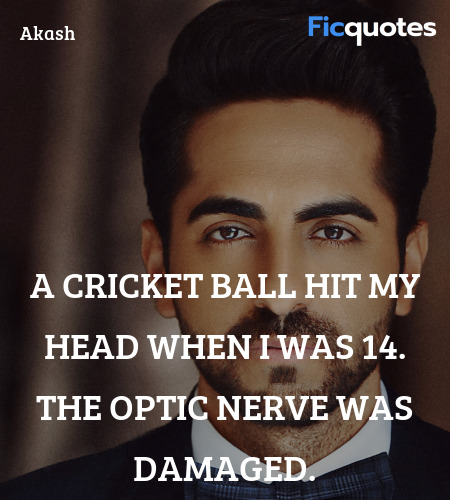 A cricket ball hit my head when I was 14. The optic nerve was damaged.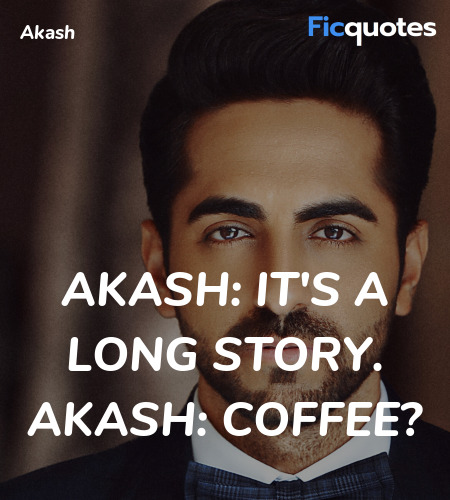 Akash: It's a long story.
Akash: Coffee?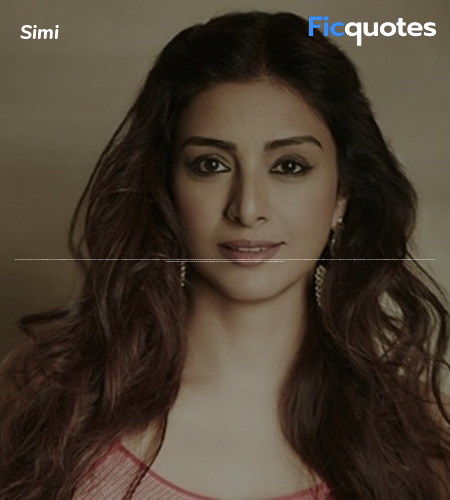 Inspector Manohar Jawanda: You blinded him? What do you mean? How?
Simi: On the internet you can find a hundred ways to do that. Good. Now he's really blind.
Inspector Manohar Jawanda: But the blind can talk. He can talk to the press. If there's an inquiry, I'll get the boot. We'll get caught. You should've killed him.
Simi: I'm not a serial killer to kill them off, one by one. Keep playing the perfect husband. Hide behind your wife. Why didn't you take my call?
Inspector Manohar Jawanda: My wife's aunt was in the ICU. You know how it is. You were married too.
Simi: I was. And with a far better man than you. Why did you bring your gun that day? If you hadn't, none of this would've happened. He might have forgiven me. You think you're Dirty Harry, while I do the dirty work!
Inspector Manohar Jawanda: What color is your cat?
Akash: Black and white.
Inspector Manohar Jawanda: How do you know?
Akash: I was told.
Akash: Rani.
Inspector Manohar Jawanda: You cook for yourself?
Akash: Forget about me, Sir. Look for Rani, please. Rani might get run over.
Inspector Manohar Jawanda: Water?
Akash: Chilled?
Akash: Water.
Inspector Manohar Jawanda: Today's newspaper? What for?
Akash: To collect cat poo, sir.
Akash: You're here? Please look for Rani. I'm lost without her.
Akash: Sir, Bandu's school bus. Slap him hard to make him confess. Last week he tied a firecracker to Rani's tail. She ran amok. She hid indoors for two days. That's no good.
Akash: What was that? Rani?
Akash: Rani. Where were you? Come, baby. Eat something. You haven't eaten for two days. Good girl.
Pramod Sinha: Simi, watch this scene. It's great fun. Look.
Simi: Pammi, I've seen it ten times. Now this bimbo will get murdered. How many times have you seen it? A thousand?
Pramod Sinha: I'm going to Bengaluru tomorrow.
Simi: What? Have I upset you? Tomorrow is our wedding anniversary. You're going away?
Pramod Sinha: Shetty had called. There's something urgent. I'll be back by evening.
Pramod Sinha: Can you play my songs as well?
Akash: Sure. I'll just play them.
Pramod Sinha: No, not here. Come to my house tomorrow for a private concert. I'll be there along with my wife. She loves the actor Rajesh Khanna. Play his numbers. She'll be happy. Here. Here's my address. And an advance. You'll get more later. One o'clock.
Mavashi: Lottery tickets for sale. Try your luck. Lottery tickets for sale. Try your luck, Sir.
Mavashi: Go on, buy one.
Mavashi: Sir, do me a favour. Place your hand on any ticket. They say, God favors the blind.
Mavashi: He touched the ticket. You'll hit the jackpot now. Out with a 100 rupees.
Related movies quotes
We hope you enjoyed reading Andhadhun quotes. Browse other movie quotes on Ficquotes also. If you think we missed any quote from Andhadhun, please send it to us so we can expand our collection of the best Andhadhun quotes.