American Hustle Quotes
Best American Hustle Movie Quotes
American Hustle

Directed by: David O. Russell
Written by: Eric Warren Singer, David O. Russell
Starring: Christian Bale, Amy Adams, Bradley Cooper
Released on: December 20, 2013
Taglines: Everyone Hustles To Survive
American Hustle Quotes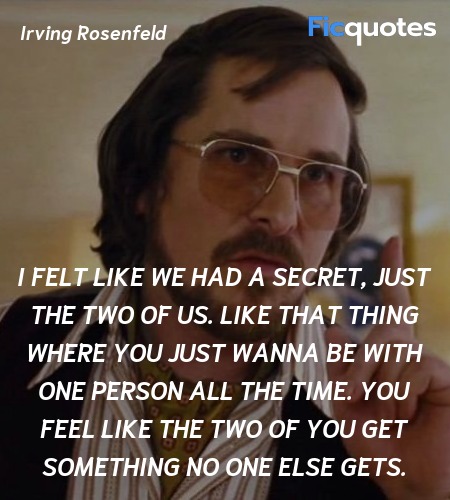 I felt like we had a secret, just the two of us. Like that thing where you just wanna be with one person all the time. You feel like the two of you get something no one else gets.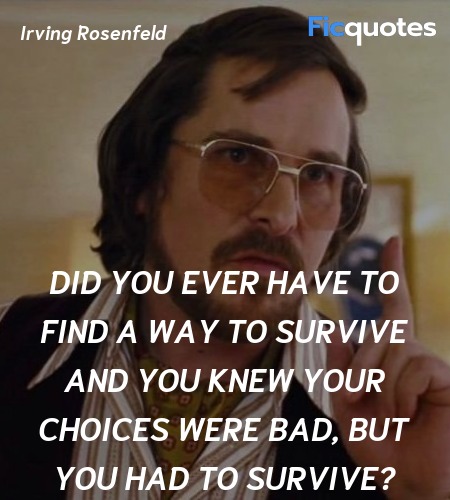 Did you ever have to find a way to survive and you knew your choices were bad, but you had to survive?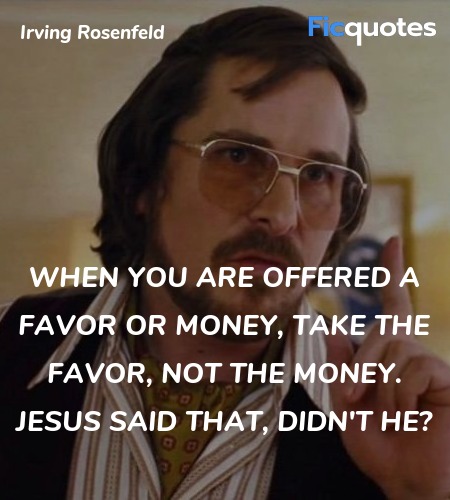 When you are offered a favor or money, take the favor, not the money. Jesus said that, didn't he?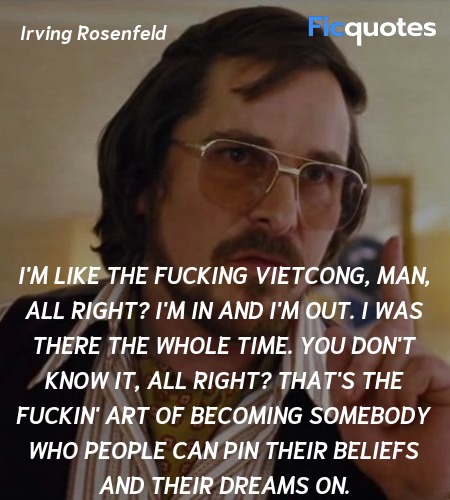 I'm like the fucking Vietcong, man, all right? I'm in and I'm out. I was there the whole time. You don't know it, all right? That's the fuckin' art of becoming somebody who people can pin their beliefs and their dreams on.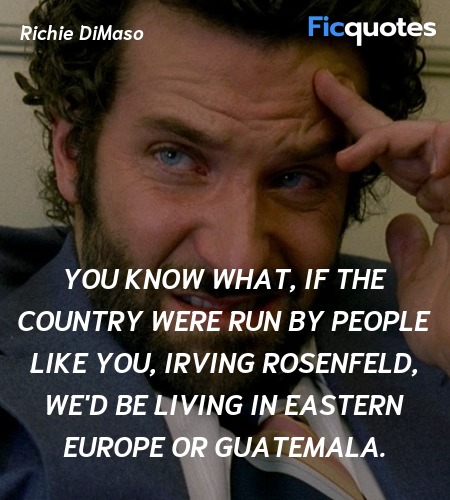 You know what, if the country were run by people like you, Irving Rosenfeld, we'd be living in Eastern Europe or Guatemala. If I really wanted to fucking bother you, this is what I would do. You know, we're taking down a very... important... politician. You're nothing to me until you're everything. Cosmo Interview Girl : Our cover story right now is about cunnilingus. What do you think about that? Sydney Prosser : I like it.
We took down some very big guys. Some of whom, they were just doing business as usual, helping their communities or their states, but some of them knew they had larceny in their blood, and they even admitted it. But in all, it was six congressmen, one United States senator, and my friend Carmine Polito. We gave the two million back, so that Carmine got a reduced sentence, 18 months. The loss of his friendship would haunt me the rest of my life. When the story was written, Richie DiMaso's name was never mentioned. Syd and I, we moved in together. Rosalyn? She would always be interesting. Our conning days were behind us. You can fool yourself for just so long, that your next reinvention you better have your damn feet on the ground. We got a loan from a bank and were able to go gallery-legitimate. The art of survival, is a story that never ends.
Richie DiMaso : I know you think - look at me, hey, Edith - I know you think Irv loves you. I know you think you know him. You think that he sees the world as this cold, dark place. He cares about nobody but a very few people on a short list: His son, his father, Rosalyn, and you. You think you're on the top of the list? What if you're not? What if you're not on that list? What if you're not even on that list at all? He'd be in here right now if he took the cheque, but no, you did. God, it's so clear to me, it's crazy, it's clear to me, but it's not clear to you. He uses you, Edith, to protect himself, to protect his son, and his wife in Long Island. No? Yes. He put a ring on her finger, he adopted her son. They have a huge house and they have two huge cars, what does she do all day? I'll tell you what she does: She plays with her nails, she watches TV, and she spends your money; the money that you make.
Richie DiMaso : I don't like that you're in jail while he's going free, I don't like any of that, I want to help you. All the razzle-dazzle that he does? It's not good, it's not real, it's fake, it's not real. Who you are is who you are, between you and God. You and your soul, that's what matters, that's what counts, that's what I'm about. That's what I see in you. Tell me you didn't feel it the first time we saw each other? Am I crazy? I don't think so.
Richie DiMaso : I'm not supposed to be talking like this, but I don't care, I break the rules.
Richie DiMaso : Okay, Edith, Edith, I wanna help you. I like you.
Richie DiMaso : I like you.
Richie DiMaso : I like you.
That's what the phone call's about. Everybody thought, "Oh, Richie DiMaso is gonna stay in the office pushing papers." That's not gonna happen, mom. I'm outside on the field, I got peoples working for me. My ideas, I'm running the show, I'm the quarterback and I'm not gonna settle for no one, mom.
American Hustle Quotes Videos

Date A President - Katt Williams: It's Pimpin' Pimpin'
Related movies quotes
We hope you enjoyed reading American Hustle quotes. Browse other movie quotes on Ficquotes also. If you think we missed any quote from American Hustle, please send it to us so we can expand our collection of the best American Hustle quotes.