Thor Quotes
Latest Thor quotes from The Avengers
Thor

Thor arrives on earth to chase Loki and tesseract Later he joins The Avengers to fight Loki and his army.
Thor is played by Chris Hemsworth in The Avengers.
Quotes
Thor: We were raised together, we played together, we fought together. Do you remember none of that?
Loki: I remember a shadow, living in the shade of your greatness. I remember you tossing me into an abyss, I who was and should be king!
Thor: So you take the world I love as recompense for your imagined slights? No, the Earth is under MY protection, Loki!
Loki: And you're doing a marvelous job with that! The humans slaughter each other in droves, while you ideally threat. I mean to rule them. And why should I not?
Thor: You think yourself above them?
Loki: Well, yes.
Thor: Then you miss the truth of ruling, brother. A throne would suit you ill.
Loki: I've seen worlds you've never known about! I have grown, Odin's Son, in my exile, I have seen the true power of the Tesseract, and when I wield it...
Thor: Who showed you this power? Who controls the would be king?
Loki: I am a king.
Thor: Not here! You give up the Tesseract! You give up this pointless dream! You come home.
Thor: You speak of control, yet you court chaos.
Bruce Banner: It's his M.O., isn't it? I mean, what are we, a team? No, no, no. We're a chemical mixture that makes chaos. We're... we're a time-bomb.
Nick Fury: You need to step away.
Tony Stark: Why shouldn't the guy let off a little steam?
Steve Rogers: You know damn well why! Back off!
Tony Stark: Oh, I'm starting to want you to make me.
Bruce Banner: I don't think we should be focusing on Loki. That guy's brain is a bag full of cats. You can smell crazy on him.
Thor: Take care how you speak. Loki is beyond reason, but he is of Asgard. And he is my brother.
Natasha Romanoff: He killed eighty people in two days.
Thor: He's adopted.
Thor: We on Asgard pretend that we are more advanced, but we, we come here battling like Bilgesnipe.
Agent Phil Coulson: Like what?
Thor: The Bilgesnipe, you know; huge, scaly, big antlers. You don't have those?
Agent Phil Coulson: Don't think so.
Thor: They are repulsive, and they trample everything in their path.
Steve Rogers: Now, I don't know what you plan on doing here.
Thor: I've come here to put and end to Loki's schemes!
Steve Rogers: Then prove it! Put the hammer down.
Tony Stark: Umm, yeah, no! Bad call, he loves his hammer!
Also read: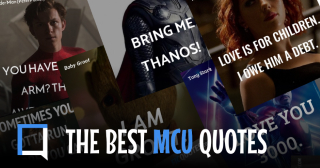 Best MCU quotes
We hope you enjoyed reading our collection of Thor quotes. You can also browse other The Avengers quotes . If you think we missed any quote from Thor or The Avengers, please send it to us.