Shere Khan Quotes
Latest Shere Khan quotes from Mowgli Legend of the Jungle (2018)
Shere Khan

Quotes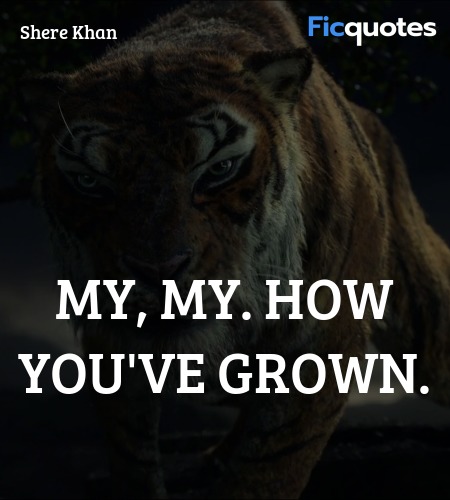 My, my. How you've grown.
Shere Khan: The man-cub is mine! I have already tasted its mother's blood! It is my right.
Nisha: Your right according to whose law?
Akela: You have no right to be here, Shere Khan.
Shere Khan: I think you'll find I stay where I please.
Akela: You kill man's cattle, you poison the jungle. You're the reason man is here!
Shere Khan: But you permitted man to live among you! You pretend he is a wolf. And you know that is the one thing he will never be. He will always be a man! YOU poisoned the jungle.
Shere Khan: My, my... how you've grown.
Shere Khan: And how much chaos you've brought upon the pack. So... much more... to come.
We hope you enjoyed reading our collection of Shere Khan quotes. You can also browse other Mowgli Legend of the Jungle (2018) quotes . If you think we missed any quote from Shere Khan or Mowgli Legend of the Jungle (2018), please send it to us.