Neo Quotes
Latest Neo quotes from The Matrix
Neo

Quotes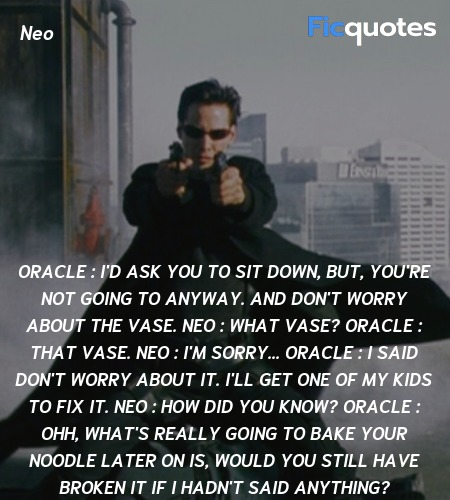 Oracle : I'd ask you to sit down, but, you're not going to anyway. And don't worry about the vase.
Neo : What vase?
Oracle : That vase.
Neo : I'm sorry...
Oracle : I said don't worry about it. I'll get one of my kids to fix it.
Neo : How did you know?
Oracle : Ohh, what's really going to bake your noodle later on is, would you still have broken it if I hadn't said anything?
I know you're out there. I can feel you now. I know that you're afraid... you're afraid of us. You're afraid of change. I don't know the future. I didn't come here to tell you how this is going to end. I came here to tell you how it's going to begin. I'm going to hang up this phone, and then I'm going to show these people what you don't want them to see. I'm going to show them a world without you. A world without rules and controls, without borders or boundaries. A world where anything is possible. Where we go from there is a choice I leave to you.
We hope you enjoyed reading our collection of Neo quotes. You can also browse other The Matrix quotes . If you think we missed any quote from Neo or The Matrix, please send it to us.