Marquis de Lafayette Quotes
Latest Marquis de Lafayette quotes from Hamilton
Marquis de Lafayette

Marquis de Lafayette is played by Daveed Diggs in Hamilton.
Quotes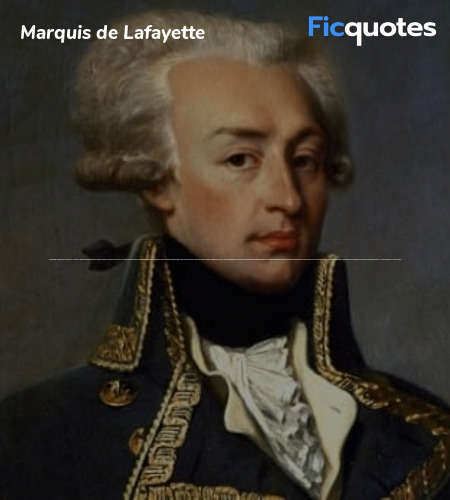 George Washington: Let me tell you what I wish I'd known/When I was young and dreamed of glory/You have no control/Who lives? Who dies? Who tells your story?
Aaron Burr: President Jefferson.
Thomas Jefferson: I'll give him this, his financial system is a work of genius. I couldn't undo it if I tried. And I tried.
Aaron Burr: President Madison.
James Madison: He took our country from bankruptcy to prosperity. I hate to admit it, but he doesn't get enough credit for all the credit that he gave us.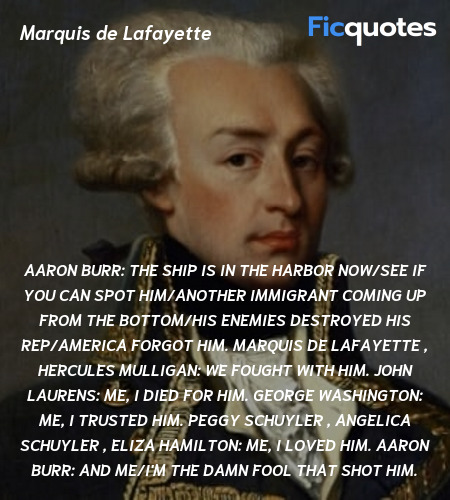 Aaron Burr: The ship is in the harbor now/See if you can spot him/Another immigrant coming up from the bottom/His enemies destroyed his rep/America forgot him.
Marquis de Lafayette , Hercules Mulligan: We fought with him.
John Laurens: Me, I died for him.
George Washington: Me, I trusted him.
Peggy Schuyler , Angelica Schuyler , Eliza Hamilton: Me, I loved him.
Aaron Burr: And me/I'm the damn fool that shot him.
I dream of France without a monarchy/The unrest in France will lead to "onarchy"/Onarchy? How you say? How you... oh, anarchy!
We hope you enjoyed reading our collection of Marquis de Lafayette quotes. You can also browse other Hamilton quotes . If you think we missed any quote from Marquis de Lafayette or Hamilton, please send it to us.