Alexander Hamilton Quotes
Latest Alexander Hamilton quotes from Hamilton
Alexander Hamilton

Alexander Hamilton is played by Lin-Manuel Miranda in Hamilton.
Quotes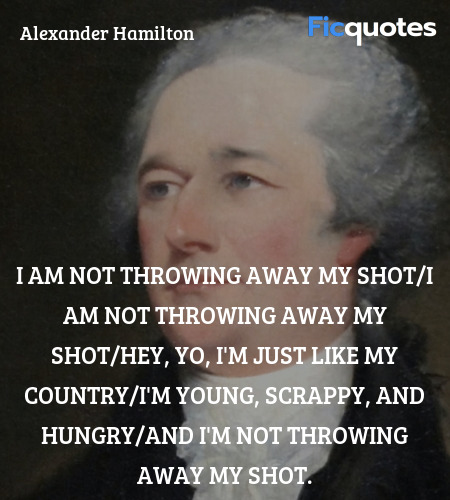 I am not throwing away my shot/I am not throwing away my shot/Hey, yo, I'm just like my country/I'm young, scrappy, and hungry/And I'm not throwing away my shot.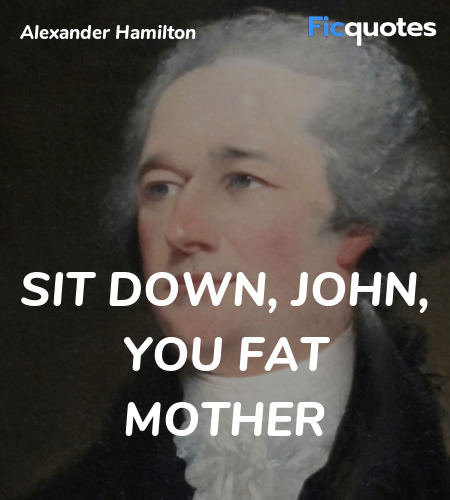 Sit down, John, you fat mother
I imagine death so much/It feels more like a memory/Is this where it gets me/On my feet, several feet ahead of me? I see it coming/Do I run or fire my gun or let it be?/There is no beat, no melody/Burr, my first friend, my enemy/Maybe the last face I ever see/If I throw away my shot/Is this how you remember me?/What if this bullet is my legacy?/Legacy. What is a legacy?/It's planting seeds in a garden/You never get to see/I wrote some notes/At the beginning of a song/Someone will sing for me/America, you great unfinished symphony/You sent for me/You let me make a difference/A place where even orphan immigrants can leave their fingerprints and rise up/I'm running out of time/I'm running and my time's up/Wise up, eyes up/I catch a glimpse of the other side/Laurens leads soldiers' chorus on the other side/My son is on the other side/He's with my mother on the other side/Washington is watching from the other side/Teach me how to say goodbye/Rise up. Rise up. Rise up./Eliza! My love, take your time./I'll see you on the other side.
Alexander Hamilton: Mr. President, you asked to see me?
George Washington: I know you're busy.
Alexander Hamilton: What do you need, sir? Sir?
George Washington: I wanna give you a word of warning.
Alexander Hamilton: Sir, I don't know what you heard, but whatever it is, Jefferson started it.
The people are asking to hear my voice/The country is facing a difficult choice/And if you were to ask me who I'd promote/Jefferson has my vote. I have never agreed with Jefferson once/We have fought on, like, 75 different fronts/But when all is said and all is done/Jefferson has beliefs, Burr has none.
We hope you enjoyed reading our collection of Alexander Hamilton quotes. You can also browse other Hamilton quotes . If you think we missed any quote from Alexander Hamilton or Hamilton, please send it to us.