The Oracle Quotes
Latest The Oracle quotes from The Matrix Revolutions
The Oracle

Quotes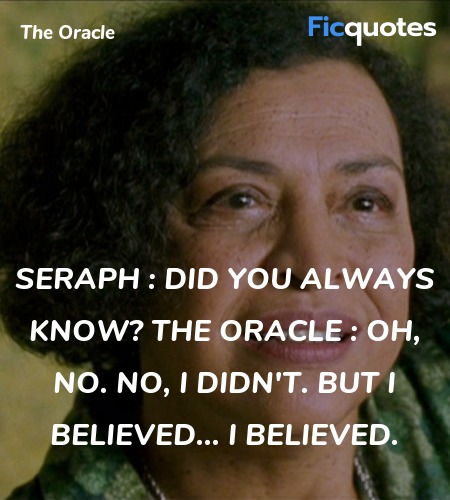 Seraph : Did you always know?
The Oracle : Oh, no. No, I didn't. But I believed... I believed.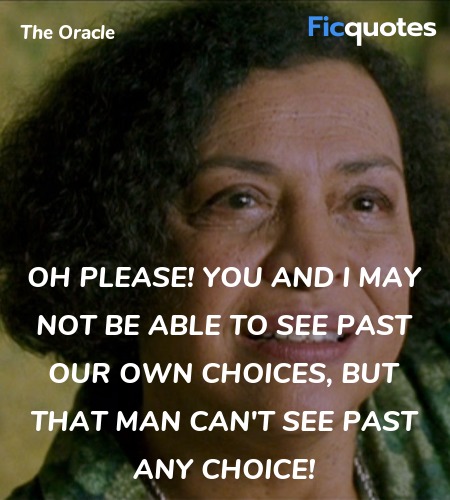 Oh please! You and I may not be able to see past our own choices, but that man can't see past any choice!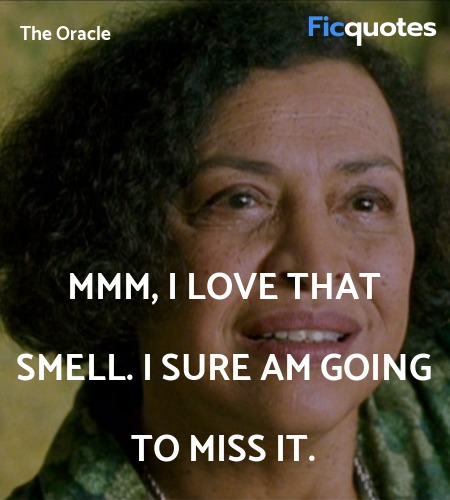 Mmm, I love that smell. I sure am going to miss it.
Everything that has a beginning has an end. I see the end coming, I see the darkness spreading. I see death.
Morpheus : After everything that's happened, how can you expect me to believe you?
The Oracle : I don't expect you to do anything. I expect what I've always expected, for you to make up your own damn mind. Believe me or don't.
Trinity : Do you know what happened to Neo?
The Oracle : He is trapped in a place between this world and the machine world. All I can do is tell you that your friend needs your help. He needs all our help.
The Oracle : What about the others?
The Architect : ...What others?
The Oracle : The ones that want out.
The Architect : Obviously they will be freed.
The Oracle : I have your word?
The Architect : What do you think I am? Human?
The Architect : You played a very dangerous game.
The Oracle : Change always is.
We hope you enjoyed reading our collection of The Oracle quotes. You can also browse other The Matrix Revolutions quotes . If you think we missed any quote from The Oracle or The Matrix Revolutions, please send it to us.