Rocky IV Quotes
Best Rocky IV Movie Quotes
Rocky IV

Directed by:Sylvester Stallone
Written by: Sylvester Stallone
Starring: Sylvester Stallone, Talia Shire, Burt Young
Released on: November 27, 1985
Taglines: Get ready for the next world war.
Rocky IV Quotes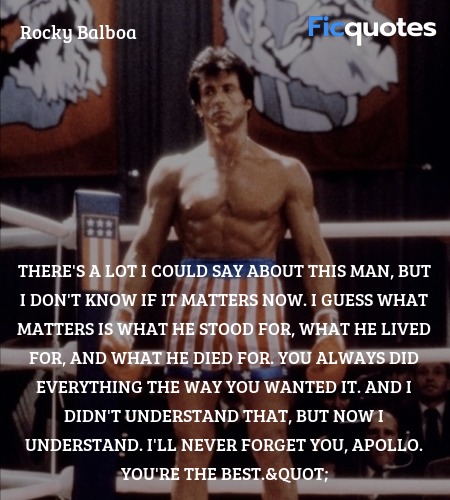 There's a lot I could say about this man, but I don't know if it matters now. I guess what matters is what he stood for, what he lived for, and what he died for. You always did everything the way you wanted it. And I didn't understand that, but now I understand. I'll never forget you, Apollo. You're the best."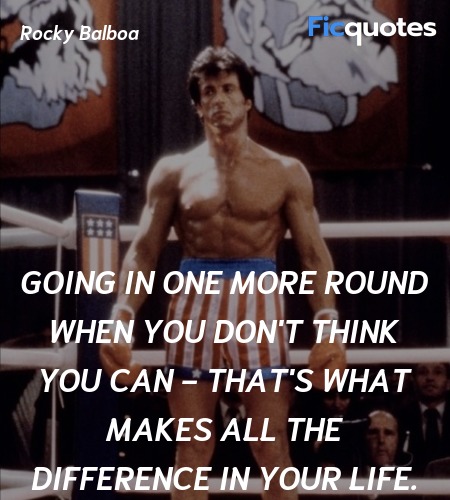 Going in one more round when you don't think you can - that's what makes all the difference in your life.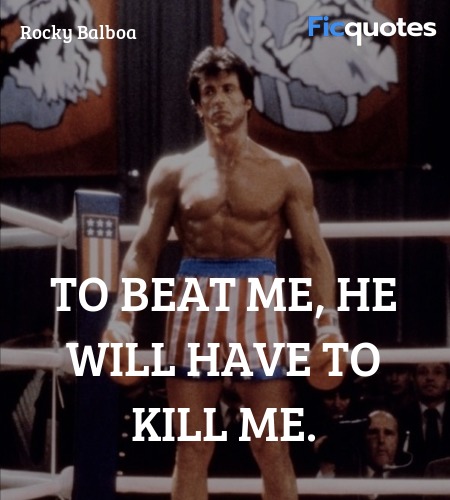 To beat me, he will have to kill me.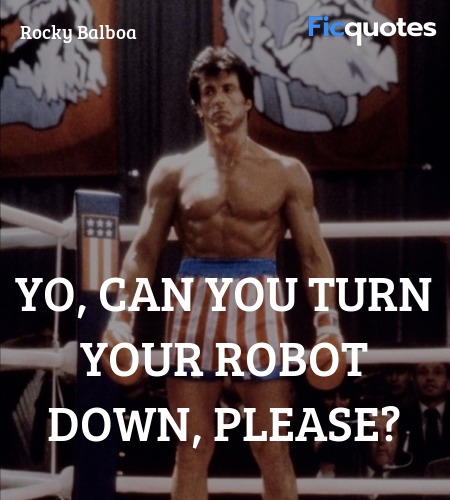 Yo, can you turn your robot down, please? Rocco, knock his head off!
Adrian : I couldn't stay away anymore. I missed you.
Rocky : I missed you.
Adrian : I'm with you no matter what.
Rocky : No matter what?
Adrian : No matter what.
Adrian : Rocky?
Rocky : Yeah?
Adrian : You alright?
Rocky : Yeah I'm fine
Adrian : Why'd you do it?
Rocky : I just gotta do what I gotta do.
Adrian : You don't have to do anything
Rocky : No, Adrian, I do and I gotta leave this place too.
Adrian : So where are you going?
Rocky : They said they're gonna let me train in Russia and I just want to be somewhere where I ain't gonna think about nothing except him.
Adrian : Rocky, give it some time. Don't do this a lot of people live with hurt.
Rocky : A lot of people don't have a choice, Adrian, I do.
Adrian : And for that you're willing to lose everything?
Rocky : Adrian this isn't everything. The house, the cars and all the stuff we got. That ain't everything. There's a lot more than this, Adrian.
Adrian : Before there were reasons to fight I could understand but I don't understand this. Even if you win what have you won, Apollo's still gone. Why can't you change your thinking everybody else does?
Rocky : Cause I'm a fighter! That's how I'm made, Adrian. That's what you married. We can't change what we are.
Adrian : Yes you can.
Rocky : We can't change anything, Adrian. All we can do is just go with what we are.
Adrian : You can't go with what you are you've read the papers, it's suicide! You've seen him you know how strong he is! YOU CAN'T WIN!
Rocky : Oh, Adrian. Adrian always tells the truth. No maybe I can't win. Maybe the only thing I can do is just take everything he's got. But to beat me he's gonna have to kill me, and to kill me he's gotta have the guts to stand in front of me, and to do that he's gotta be willin to die himself. I don't know if he's ready to do that. I don't know. I don't know. I know sometimes I act stupid and I say stupid things, but you kept me around and other people would have said "drop that bum". You give me respect. You know it's kinda hard for me to say these kinda things, cuz it ain't my way, but if I could just unzip myself and step out and be someone else, I'd wanna be you. You're all heart, Rock.
Are you planning to grow reindeer or something? How the heck are you supposed to train here? What a depressing vacation. What about the Rose Bowl game? I hope they have my comics here.
Related movies quotes
We hope you enjoyed reading Rocky IV quotes. Browse other movie quotes on Ficquotes also. If you think we missed any quote from Rocky IV, please send it to us so we can expand our collection of the best Rocky IV quotes.