Queen Hippolyta Quotes
Latest Queen Hippolyta quotes from Wonder Woman
Queen Hippolyta

Hippolyta is the queen of Amazon and mother of Diana A.K.A. Wonder Woman. She fought in a great battle against Ares the god of war. She warns Diana that if she goes to war she my never return. Her character is inspired by Greek Goddess.
Queen Hippolyta is played by Connie Nielsen in Wonder Woman.
Quotes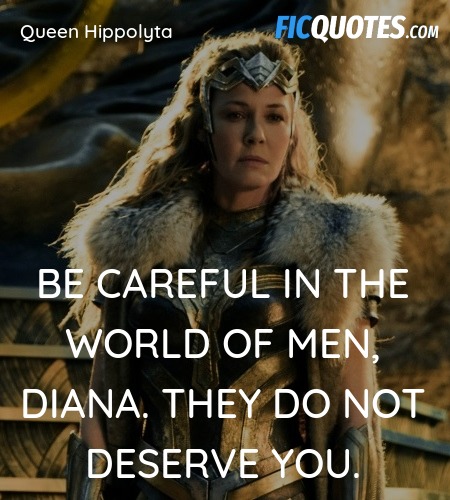 Be careful in the world of men, Diana. They do not deserve you.
You have been my greatest love. Today, you are my greatest sorrow.
The more she knows, the sooner he will find her.
Queen Hippolyta: What are you?
Steve Trevor: I am a spy!
This belonged to the greatest warrior who ever lived.
Queen Hippolyta: What is your mission?
Steve Trevor: To stop the war!
Diana Prince: What war?
Steve Trevor: The war to end all wars. Weapons far deadlier than you can imagine! Whoever you are, you are in more danger than you realize.
We hope you enjoyed reading our collection of Queen Hippolyta quotes. You can also browse other Wonder Woman quotes . If you think we missed any quote from Queen Hippolyta or Wonder Woman, please send it to us.