Derek Vinyard Quotes
Latest Derek Vinyard quotes from American History X
Derek Vinyard

Quotes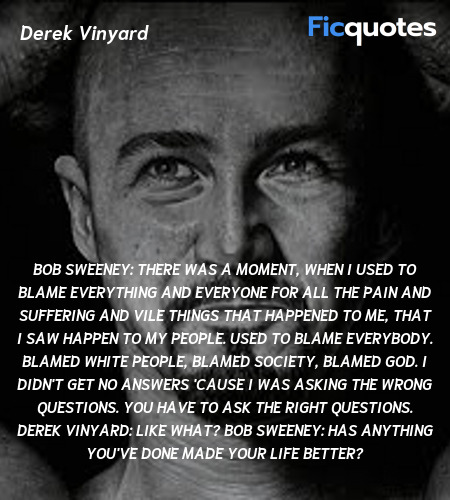 Bob Sweeney: There was a moment, when I used to blame everything and everyone for all the pain and suffering and vile things that happened to me, that I saw happen to my people. Used to blame everybody. Blamed White people, blamed society, blamed God. I didn't get no answers 'cause I was asking the wrong questions. You have to ask the right questions.
Derek Vinyard: Like what?
Bob Sweeney: Has anything you've done made your life better?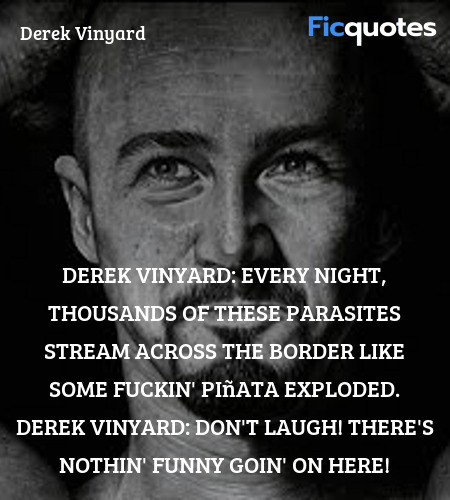 Derek Vinyard: Every night, thousands of these parasites stream across the border like some fuckin' piñata exploded.
Derek Vinyard: Don't laugh! There's nothin' funny goin' on here!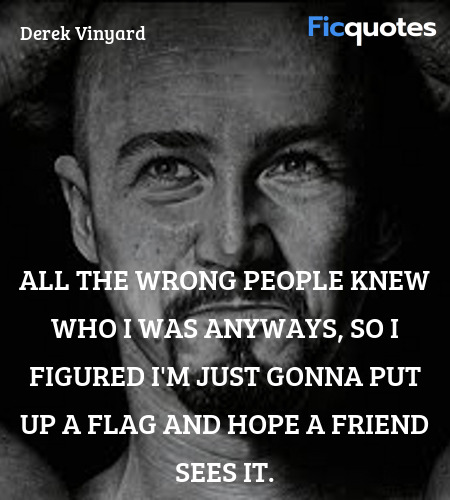 All the wrong people knew who I was anyways, so I figured I'm just gonna put up a flag and hope a friend sees it.
Lamont: 'Sup, man? You getting outta here? Well, c'mon man! What the fuck you waiting on?
Derek Vinyard: Yeah, you know, I got this funny feeling.
Lamont: Oh yeah? What's that?
Derek Vinyard: I'm thinking the only reason I'm getting outta here in one piece is you.
Lamont: C'mon man! Get the fuck outta here, man! You think I'm gonna put my neck on the line for some crazy-ass peckerwood?
Derek Vinyard: Yeah, right. Stupid.
Derek Vinyard: That's what I thought. I owe you, man.
Lamont: Man, you owe me shit, a'ight?
Derek Vinyard: Yes, I do.
Derek Vinyard: You'll be outta here in no time.
Lamont: C'mon man, it's a piece of cake, a'ight? You just take it easy on the brothers, a'ight? The brothers!
Cameron: This is stupid. Go cool off, get laid, do something, come back when you're ready to talk.
Derek Vinyard: Yeah, but it really doesn't matter if I do, does it? Because you got a whole crop already lined up, you fuckin' chicken hawk!
Cameron: Excuse me?
Derek Vinyard: You prey on people Cam. I lost three years of my life for your fuckin' phony cause, but I'm onto you now, you fuckin' snake.
Cameron: Hey, watch it Derek, be careful. Remember where you are. This isn't some fuckin' country club where you can waltz in and outta here!
Derek Vinyard: Shut up! Shut the fuck up! I came here for one reason, to tell you that I'm out. Out! And Danny's out, too. And if you come near my family again, I'm gonna fucking kill you.
Cameron: Well excuse me, but fuck you Derek. You can't come in here barking threats at me. Look, you can do whatever you want, but Danny's a good kid. He's not some whiny pussy like you. He needs my help and I'm gonna give it to him.
Derek Vinyard: If you come near Danny again, I will feed you your fucking heart, Cameron.
Cameron: I won't have to. He'll come to me. I'm more important to him now than you'll ever be.
Cameron: You made the fat kid a little nervous. He thinks the joint messed with your mind.
Derek Vinyard: It did.
Alright listen up, we need to open our eyes. There's over two million illegal immigrants bending down in this state tonight. This state spend three billion dollars last year on services, on people who had no right to be here in the first place. Three billion dollars. 400 million just to lock up a bunch of illegal immigrant criminals who only got in this country because the fucking INS decided it's not worth the effort to screen for convicted felons.
One in every three black males is in some phase of the correctional system. Is that a coincidence or do these people have, you know, like a racial commitment to crime?
We're so hung up on this notion that we have some obligation to help the struggling black man, you know. Cut him some slack until he can overcome these historical injustices. It's crap. I mean, Christ, Lincoln freed the slaves, like, what? 130 years ago. How long does it take to get your act together?
We hope you enjoyed reading our collection of Derek Vinyard quotes. You can also browse other American History X quotes . If you think we missed any quote from Derek Vinyard or American History X, please send it to us.