Colonel Saito Quotes
Latest Colonel Saito quotes from The Bridge on the River Kwai
Colonel Saito

Quotes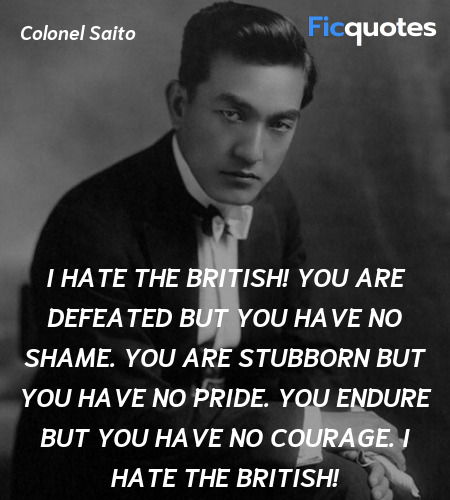 I hate the British! You are defeated but you have no shame. You are stubborn but you have no pride. You endure but you have no courage. I hate the British!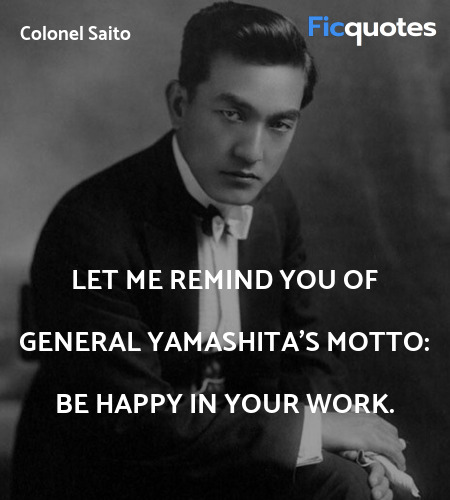 Let me remind you of General Yamashita's motto: be happy in your work.
Do not speak to me of rules. This is war! This is not a game of cricket!
All work and no play make Jack a dull boy.
Attention, English prisoners! Notice I do not say "English soldiers". From the moment you surrendered, you ceased to be soldiers. You will finish the bridge by the twelfth day of May. You will work under the direction of a Japanese engineer, Lieutenant Mioura. Time is short. All men will work. Your officers will work beside you. This is only just. For it is they who betray you by surrender. Your shame is their dishonor. It is they who told you: "Better to live like a coolie than die like a hero." It is they who brought you here, not I. Therefore, they will join you in useful labor. That is all.
A word to you about escape. There is no barbed wire. No stockade. No watchtower. They are not necessary. We are an island in the jungle. Escape is impossible. You would die.
I am Colonel Saito. In the name of His Imperial Majesty, I welcome you. I am the commanding officer of this camp, which is Camp 16 along the great railroad which will soon connect Bangkok with Rangoon. You British prisoners have been chosen to build a bridge across the River Kwai. It will be pleasant work, requiring skill, and officers will work as well as men. The Japanese Army cannot have idle mouths to feed. If you work hard, you will be treated well, but if you do not work hard, you will be punished!
Colonel Saito: English prisoners... let us ask the question... "Why does the bridge not progress?" You know why. Because your officers are lazy! They think themselves too good to share your burdens! This is not just. Therefore, you are not happy in your work. Therefore, the bridge does not progress. But there is another cause. I do not hide the truth. With deep shame and regret, I admit to you the failure of a member of the Japanese staff. I refer to Lieutenant Mioura.
Colonel Saito: He is a bad engineer! He is unworthy of command!
Colonel Saito: Therefore, I have removed him from his post. Tomorrow we begin again. I shall be in personal command. Today we rest. All work and no play make Jack a dull boy. As token of regard for your efforts in the future... I give presents to you all!
Colonel Saito: Let us be happy in our work. Company, dismissed.
We hope you enjoyed reading our collection of Colonel Saito quotes. You can also browse other The Bridge on the River Kwai quotes . If you think we missed any quote from Colonel Saito or The Bridge on the River Kwai, please send it to us.