Chihiro Ogino Quotes
Latest Chihiro Ogino quotes from Spirited Away
Chihiro Ogino

Quotes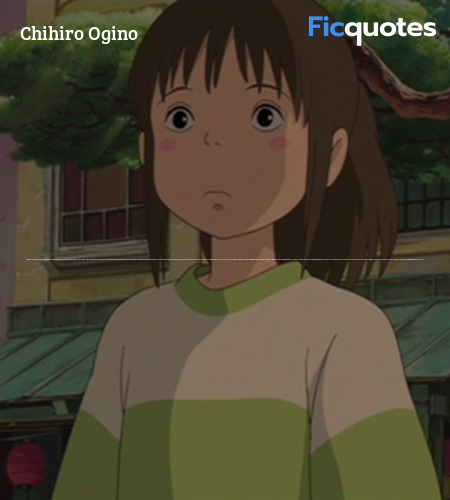 Chihiro: Listen, Haku. I don't remember it, but my mom told me... Once, when I was little, I fell into a river. She said they'd drained it and built things on top. But I've just remembered. The river was called... Its name was the Kohaku River. Your real name is Kohaku.
Haku: Chihiro, thank you. My real name is Nigihayami Kohaku Nushi.
Chihiro: Nigihayami?
Haku: Nigihayami Kohaku Nushi.
Chihiro: What a name. Sounds like a god.
Haku: I remember too, how you fell into me as a child. You had dropped your shoe.
Chihiro: Yes, you carried me to shallow water, Kohaku.
Chihiro: I'm so grateful!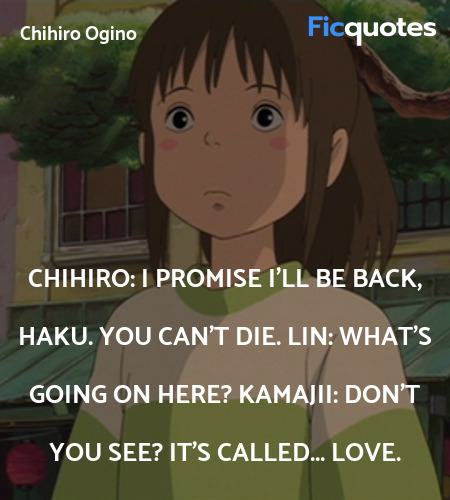 Chihiro: I promise I'll be back, Haku. You can't die.
Lin: What's going on here?
Kamajii: Don't you see? It's called... Love.
Zeniba: I'd like to help you, dear, but there's nothing I can do. It's one of our rules here. You've got to take care of your parents and that dragon boyfriend of yours, on your own.
Chihiro: But, um, can't you even give me a hint? I feel like Haku and I met, a long time ago.
Zeniba: In that case, it's easy. Nothing that happens is ever forgotten, even if you can't remember it.
We hope you enjoyed reading our collection of Chihiro Ogino quotes. You can also browse other Spirited Away quotes . If you think we missed any quote from Chihiro Ogino or Spirited Away, please send it to us.