Betty Ross Quotes
Latest Betty Ross quotes from Hulk
Betty Ross

Betty Ross is played by Jennifer Connelly in Hulk.
Quotes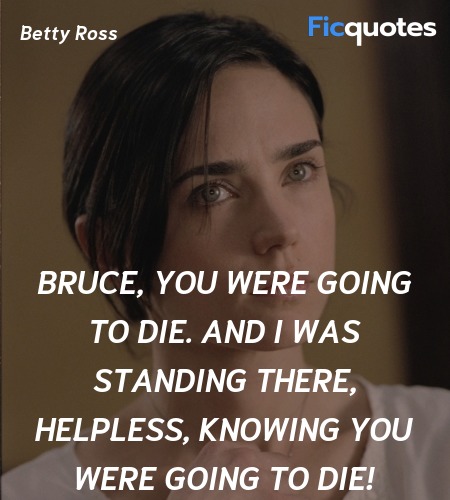 Bruce, you were going to die. And I was standing there, helpless, knowing you were going to die!
Betty Ross : All you've given Bruce is fear. Fear of life.
Father : Fear. Perhaps, Miss Ross. And loneliness, too. Yes. I feel them both. But I have lived completely once. I was so much in love. And she so much wanted a baby. My baby. I could tell from the moment she conceived that it wasn't a son I had given her, but something else. A monster, maybe. I should have put a stop to it right then, but I was curious, and that was my downfall. And as I watched this tiny life unfold, I began to imagine the horror of it, and my curiosity was replaced with compassion. But they took away my chance to cure him. Your father threw me out. I remember that day so well. Every moment. Every sensation. Walking into the house. The feeling of the handle of the knife in my hand. I knew I was doing a father's work, fulfilling a father's mercy... but then she surprised me. It was as if she and the knife merged. You cannot imagine the unbearable finality of it. And in that one moment, I took everything that was dear to me and transformed it into nothing more than a memory.
Bruce, hey. Are you there? Look, um, I think I screwed up. My father - It's like he suspects you of something. I don't know. I was so impatient, like always. I didn't hear him out. I don't know, I - I just think that they're planning something with the lab. So, um, uh - Call me. Okay? Bye.
We hope you enjoyed reading our collection of Betty Ross quotes. You can also browse other Hulk quotes . If you think we missed any quote from Betty Ross or Hulk, please send it to us.