The Secret in Their Eyes Quotes
Best The Secret in Their Eyes Movie Quotes
The Secret in Their Eyes

Directed by: Juan José Campanella
Written by: Eduardo Sacheri, Juan José Campanella
Starring: Ricardo Darín, Soledad Villamil, Pablo Rago
Released on: May 21, 2010
Taglines: Un crimen sin castigo. Un amor puro. Una historia que no debe morir.
The Secret in Their Eyes Quotes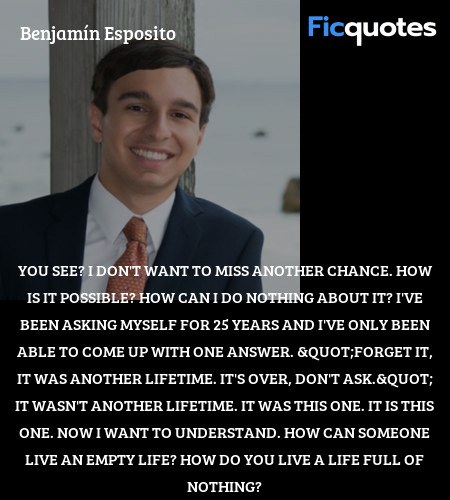 You see? I don't want to miss another chance. How is it possible? How can I do nothing about it? I've been asking myself for 25 years and I've only been able to come up with one answer. "Forget it, it was another lifetime. It's over, don't ask." It wasn't another lifetime. It was this one. It is this one. Now I want to understand. How can someone live an empty life? How do you live a life full of nothing?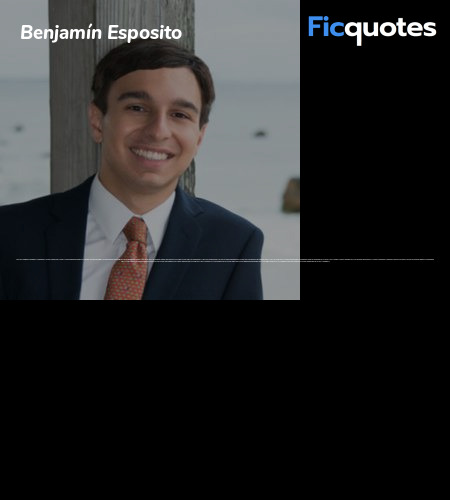 The truth is I don't know what to do. Morales gets worse by the day, the murderer knows that we're looking for him, I have a judge who is a moron, I want to kill Irene. And the only guy I can trust in the whole world is a drunk, a fucking asshole. I have an edge... small, but it's an edge... today is the 28th, isn't it? The drunk asshole hasn't been paid this month's salary yet, and the last month's gone, drank. So when the bartender wants to collect the bill the guy is going to face a dilemma: Either he says he has no money, and goes to jail, push comes to shove, there is a big mess, and his wife finally kicks him out of his house. Or he turns to the asshole of his boss, that would be me, and asks him to pay. But there's a catch: the boss is an asshole, but not such a big one, so he's going to pay... again, but he wants a favor in return. And the drunk asshole won't be able to say no, right?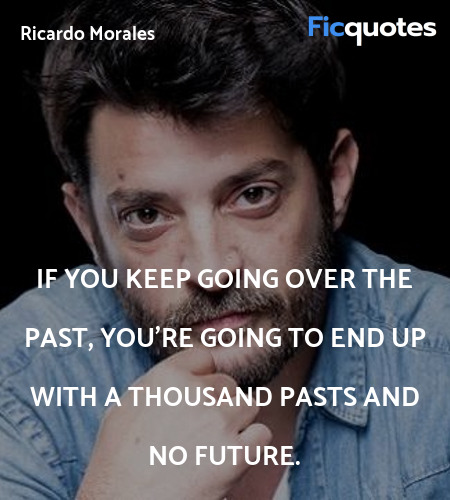 If you keep going over the past, you're going to end up with a thousand pasts and no future.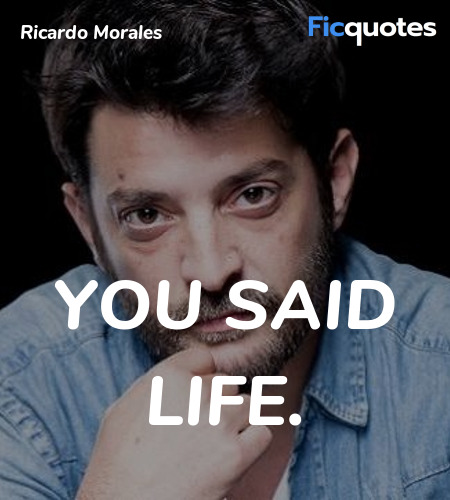 You said life.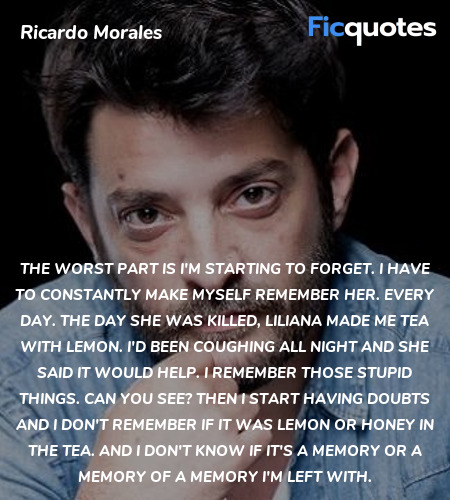 The worst part is I'm starting to forget. I have to constantly make myself remember her. Every day. The day she was killed, Liliana made me tea with lemon. I'd been coughing all night and she said it would help. I remember those stupid things. Can you see? Then I start having doubts and I don't remember if it was lemon or honey in the tea. And I don't know if it's a memory or a memory of a memory I'm left with.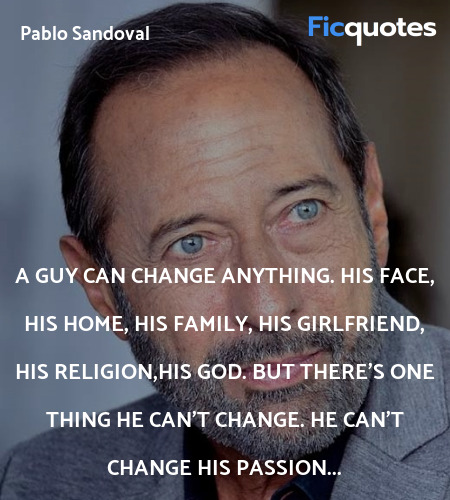 A guy can change anything. His face, his home, his family, his girlfriend, his religion,his God. But there's one thing he can't change. He can't change his passion...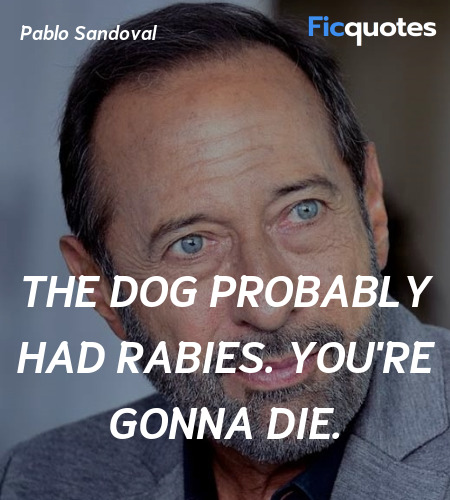 The dog probably had rabies. You're gonna die.
He ran to the end of the train and watched as her figure, once gigantic, now shrank in his eyes, but grew more than ever in his heart.
On June 21st, 1974, Ricardo Morales had breakfast with Liliana Coloto for the last time. For the rest of his life he'd remember every single detail of that morning. Planning their first vacation... Drinking tea with lemon for his nagging cough... with his usual lump and a half of sugar. The fresh berry jam he'd never taste again. The flowers printed on her nightgown... and especially, her smile. That smile like the sunrise... blending in with the sunlight on her left cheek...
The eyes speak... speak for nothing, better to shut up.
Choose carefully. Memories are all we end up with. At least pick the nice ones.
Related movies quotes
We hope you enjoyed reading The Secret in Their Eyes quotes. Browse other movie quotes on Ficquotes also. If you think we missed any quote from The Secret in Their Eyes, please send it to us so we can expand our collection of the best The Secret in Their Eyes quotes.