Mary Cooper Quotes
Latest Mary Cooper quotes from Young Sheldon
Mary Cooper

Quotes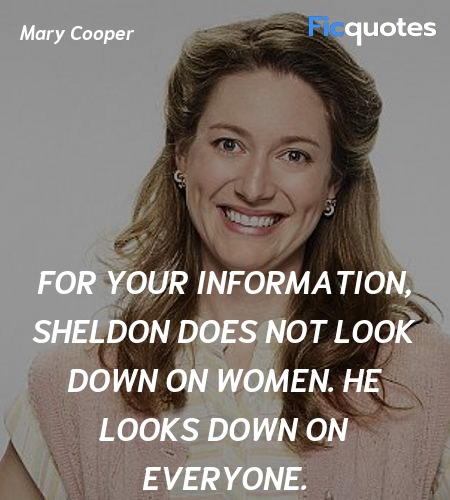 For your information, Sheldon does not look down on women. He looks down on everyone.
George Sr.: You saw it. My own son can't even imagine me being a role model. How am I supposed to be okay with that?
Mary Cooper: You're a role model for Georgie.
George Sr.: I used to be. Now he wants to grow up and be Tony Danza.
Mary Cooper: Did you forget you have a daughter who would really benefit from having a good man to look up to?
Mary Cooper: Oh dear Lord, you did forget.
Mary Cooper: Are you OK with this?
George Cooper Sr.: Yeah, I think it'd be good for him.
Mary Cooper: I don't know. I think his education should come first.
Georgie Cooper: Come on, Mom, it's not like I'm gonna graduate Valedictatortorian.
George Cooper Sr.: You heard him.
Sheldon Cooper: You think I have mental problems?
Mary Cooper: Well, not "problems". I'm just worried about your future. And when I see you moving sub-atomic particles around in the air, that makes me...
Sheldon Cooper: Sub-atomic particles are real! You talk to an invisible man in the sky who grants wishes. If anyone's mental, it's you!
Missy Cooper: Is Sheldon going to jail?
Mary Cooper: No!
Missy Cooper: Damn it
We hope you enjoyed reading our collection of Mary Cooper quotes. You can also browse other Young Sheldon quotes . If you think we missed any quote from Mary Cooper or Young Sheldon, please send it to us.