Ho Yinsen Quotes
Latest Ho Yinsen quotes from Iron Man (2008)
Ho Yinsen

A scientist Tony meets in a cave in afghanistan, he also helps him build the first Iron Man suit.
Ho Yinsen is played by Shaun Toub in Iron Man (2008).
Quotes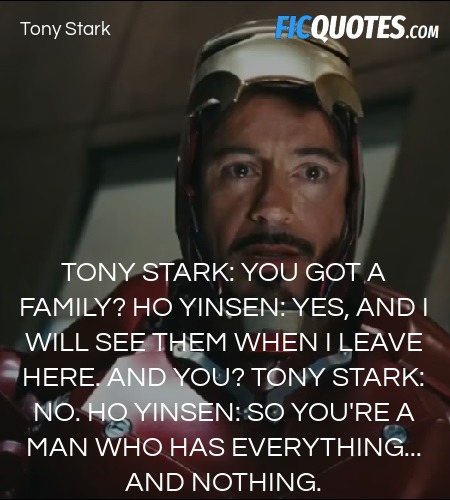 Tony Stark: You got a family?
Ho Yinsen: Yes, and I will see them when I leave here. And you?
Tony Stark: No.
Ho Yinsen: So you're a man who has everything... and nothing.
Tony Stark: What the hell did you do to me?
Yinsen: What I did is to save your life. That is an electromagnet hooked up to a car battery. I removed as much shrapnel from your chest as I could, but there are still some pieces left. I've seen plenty of injuries like that. In my village we call those casualties "the walking dead" because they take about a week to reach your heart.
Tony Stark: We gotta go. Come on, move with me. We got a plan, and we're going to stick to it.
Yinsen: This was always the plan
Tony Stark: Come on, you're going to go see your family. Get up.
Yinsen: My family is dead, Stark... and I'm going to see them now. It's okay, I want this... I want this.
Tony Stark: Thank you for saving me.
Yinsen: Don't waste it... don't waste your life, Stark.
Ho Yinsen: We met, you know, in a technical conference in Bern.
Tony Stark: I don't remember.
Ho Yinsen: Of course not. If I had been that drunk, I wouldn't have been able to stand, let alone give a lecture on integrated circuits.
Ho Yinsen: Did you see that? Those are Your weapons... in the hands of those murderers! Is this what you want? Is this what you wish the legacy of the great Tony Stark to be?
Tony: I shouldn't do anything. They could kill you, they're gonna kill me, either way, and even if they don't, I'll probably be dead in a week.
Yinsen: Then this is a very important week for you, isn't it?
Yinsen: That doesn't look like the Jericho missile.
Tony Stark: That's because it is a miniaturized arc reactor. I've got a big one powering my factory at home.
Yinsen: What will it generate?
Tony Stark: If my math is right, and it always is, three gigajoules per second.
Yinsen: That could run your heart for fifty lifetimes!
Tony Stark: Yeah... or something big for fifteen minutes.
We hope you enjoyed reading our collection of Ho Yinsen quotes. You can also browse other Iron Man (2008) quotes . If you think we missed any quote from Ho Yinsen or Iron Man (2008), please send it to us.