Braveheart Quotes
Best Braveheart Movie Quotes
Braveheart

Directed by: Mel Gibson
Written by: Randall Wallace
Starring: Mel Gibson, Sophie Marceau, Patrick McGoohan
Released on: May 24, 1995
Taglines: He who fought, fought for freedom.
Braveheart Quotes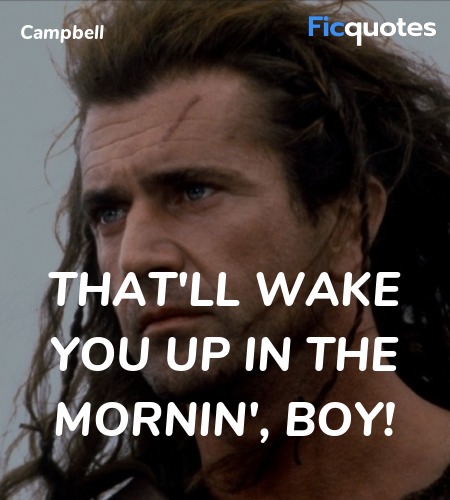 That'll wake you up in the mornin', boy!
Young William : I can fight.
Malcolm Wallace : I know. I know you can fight. But it's our wits that make us men.
Young William : What are they doin'?
Argyle Wallace : Saying goodbye in their own way. Playing outlawed tunes on outlawed pipes.
Hamish : Some men are longer than others.
Campbell : Your mother been telling ya stories about me again, eh?
Campbell : I'm dying. Let me be.
Hamish : No. You're going to live.
Campbell : I've lived long enough to live free. Proud to see you become the man you are. I'm a happy man.
Related movies quotes
We hope you enjoyed reading Braveheart quotes. Browse other movie quotes on Ficquotes also. If you think we missed any quote from Braveheart , please send it to us so we can expand our collection of the best Braveheart quotes.